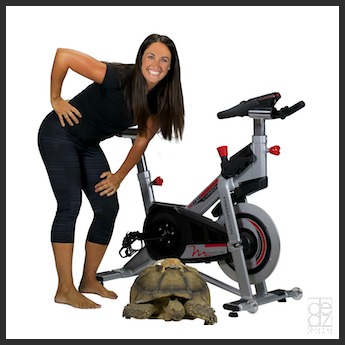 Dear Barn Customer~
If you have had the opportunity to take a CB CycleBarn® class from Melissa you know there is something about her.
As a rider, you know immediately ... there is something very special about Mel.
Her classes sell out. She builds a relationship with every rider. She is the ultimate TEAM player. She is consistently FUN, consistently teaches an INCREDIBLE Indoor Cycling class, and cares about everyone ... not just the customer, but the staff, our software team, our vendors, and every random person that walks through our Barn door. She has amazing energy and a genuine heart.
She goes out of her way to make everyone feel special, including me ... Karen ... the owner of CB CycleBarn

®

.

All of the above qualities make an instructor like Melissa a dream come true for any Indoor Cycling studio owner or program director. Over the course of time, just how uniquely special Melissa is becomes apparent and sets her apart. Her consistently consistent style of teaching, magnetic personality, humble spirit, and grateful heart raise the bar for all instructors. Mel's bleeds BARN and as a business owner, her support means the world to me. When I met Melissa two and a half year ago, she jumped on board my crazy train with complete blind faith. Without either of us realizing it, she assumed the role as my co-captain on my Indoor Cycling crusade to change lives ... "one pedal stroke at a time." She has been an inspiration to me, both professionally and personally.
I am grateful for her dedication to TheBarn and for her friendship every day.


Since Day 1 ... Melissa has shared my BARN vision.
Since Day 1 ... Melissa has consistently honored the CB CycleBarn® brand.
Since Day 1 ... Melissa has been and always is Keeping It FUN
Since Day 1 ... Melissa has touched more lives than I can possibly count.
Since Day 1 ... Melissa has believed in me
supported me
been a friend to me
Since Day 1 ... I knew that there was something special about Mel

Since Day 1 ... I knew that if the day ever came that Melissa needed to give up classes, that it would be a very sad day for both myself and for TheBarn.
Melissa, as do each of our Barn Instructors, has a job and responsibilities that extend far beyond our Barn doors.
I know what some of you are thinking :)
THERE IS LIFE OUTSTIDE THE BARN? How is that possible?
For Melissa, her family is her job and her number one priority.

In order to focus on her priorities, Melissa has asked to step back from teaching.
We ask that you continue to honor the the commitment you have made to Melissa and her classes, in her absence.
Ride with her rather than because of her.

Thank you~
Karen



Dear Melissa~
I've got your back.
You have had mine since Day 1.
Now it's my turn to be there for you.


I stand behind your decision to to put family first.
Thank you for the heart and soul you have shared with TheBarn and our customers.
For you and each of our CB2 Instructors, I want only what's best for you and those closest to you.
I am proud of you for recognizing the importance of taking care of yourself so you can take care of those around you.
You continue to be an inspiration by making fitness a priority during life's challenging chapters. At the same time, you are a powerful example of all that our CB CycleBarn

®

mission statement stands for. TheBarn isn't just about fitness. TheBarn is about helping others find balance and transformation ... mind, body, & spirit.

Right now, your family needs you more than we do at at TheBarn. Find your balance.

From my heart to yours~
Karen
Want to leave your own words of kindness and support?
Leave a comment below.